As a young teen growing up in Saddle Brook, New Jersey, artist Karen O'Neil Ganci preferred artistic and creative endeavors to other kinds of extracurricular activities. By the time she entered high school, she received art awards for Fire Safety, Lennox Plate Design and Save the Seals to name a few. Her artistic gift prompted her junior and senior year art teachers to create a special art grant for the Honor Roll student.

Invited to attend the Ducret School of Art and other art institutions, Karen opted to begin hands-on training with illustrator, Lori Anzalone. This apprenticeship provided her with the opportunity to work with major accounts such as Tropicana, New Jersey Bell, New Jersey Lottery and Macy's to name a few.

With the experience she gained through her apprenticeship, in 1993 at the age of 19, Karen opened her own art studio. Her client list included Blue Ridge Farms, East Coast Fitness Centers, Sureway Air Express, The Thinking Woman's Toy Company and a host of other companies.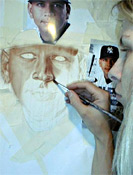 In 1995, Karen was invited by Creative Image Productions to showcase her artistic talents in a 1-hour cable television special. During this special, she painted a portrait of the late Brandon Lee. The show aired as a special presentation on C.T.N. and O.B.C. television. After receiving positive response from fans and critics alike, she was inspired to pursue her artistic talents in the collectibles industry.

Over the years, Ms. Ganci has painted likenesses of some of sport's greatest legends. She created custom pieces of the greatest living baseball player, Joe DiMaggio. Mr. DiMaggio has acknowledged the works as some of the best he has seen. Karen's likenesses of Ted Williams are displayed in the Ted Williams Museum in Hernando, Florida. The museum has commissioned her to create artwork each year for their Hitter's Hall of Fame induction plaques.

In 1998, Karen presented a tribute piece to the '98 Yankees at the opening of the World Series. The artwork is displayed in the player's clubhouse and is considered their good luck charm. .

Ms. Ganci has released limited edition, hand signed giclee on canvas of Dan Marino, Nolan Ryan, Joe Montana, Peyton Manning, Phil Simms, Lawrence Taylor, and Coach Bill Parcells. She has also been commissioned to paint life-sized likenesses of Mickey Mantle, Derek Jeter, Alex Rodriguez, Nolan Ryan, Roger Clemens, Michael Jordan, Wayne Gretzky, and Dan Marino on hand signed jerseys, bats, baseballs, home plates, seat backs, footballs, football helmets and guitars. Karen has created one of a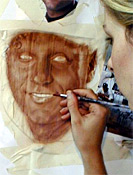 kind items and personal pieces for sports greats like Mark McGwire, Mike Piazza, Phil Rizzuto, Yogi Berra, Joe Torre and many of the World Champion Yankees just to name a few. In 2002, Karen created portraits on jerseys for most of the starters of the New York Yankees. Players included David Wells, Andy Pettitte, Orlando Hernandez, Mariano Rivera, and Roger Clemens. Mr. Clemens bought multiple pieces of her work for his family members.

Karen created a Monte Irvin tribute that was presented to him at an honorary dinner and roast. She also painted a tribute to Muhammad Ali. It is Ali's favorite likeness to date. She recently delivered wedding portraits to Tom Arnold and his wife, Shelby, and David Wells and his wife, Nina.

Her artistic talent and reputation in the creating works of art in the sports industry has created the demand for her talent in the entertainment industry. She had the honor of being commissioned to create a fine art representation of the Sopranos cast for the actors and their agents. Rock star Jon BonJovi has the Soprano print hanging in his home.

In addition to her work in the collectibles industry, Karen has also illustrated textbook pages and full color covers for People's Publishing. She has also worked on a series of children's books and holds licensing agreements with several firms for some of her original characters.

Ms. Ganci admits, "People are amazed at how much I have accomplished at such a young age. In reality, I have only just begun. God willing, I'll be painting and having fun doing it for a very long time". The name Karen O'Neil Ganci "KONG" is quickly becoming synonymous in the collectible industry with quality. Her signed originals are commanding industry and media attention.

In the summer 2004, Karen was a on the Live CBS television show, Big Brother 5. Over 10 million viewers tuned in. Upon the completition of the television show, Karen enterered into a music production deal with Grammy Award winning Engineer / Producer, Dan Hetzel. Mr. Hetzel has recorded artists such as Jessica Simpson, Jennifer Lopez, Celine Dion, and Mariah Carey.